PROTEKT RESILIENT | ORAL VITAMIN TINCTURE FORMULA | NATURAL BERRY FLAVOR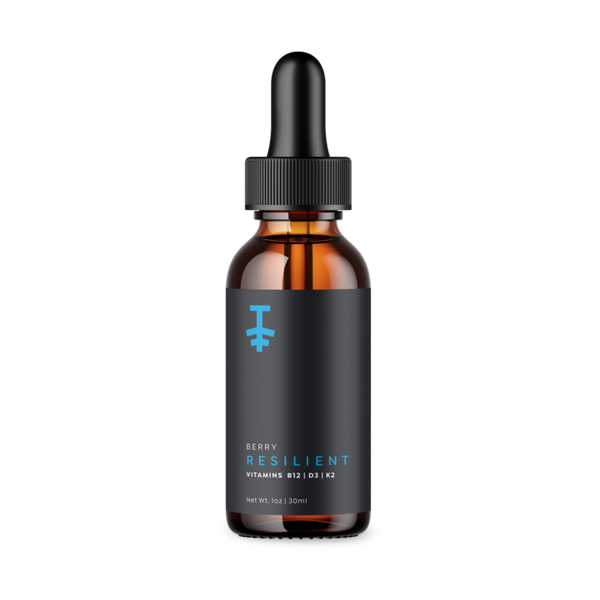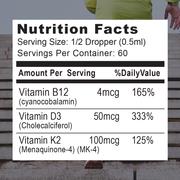 AN OPTIMIZED BLEND OF VITAMINS FOR DIVERSIFIED SYSTEM SUPPORT
Boost energy, elevate mood, and prime your body for the sleep you need to recover. Packed with a finely-tuned blend of vitamins B12, D3, and K2, RESILIENT is your go-to supplement for optimized nervous and circulatory system health. 
The natural Mixed Berry flavor makes it easy to take this tincture directly from the dropper, and it can also be added to food or beverages. You get to choose how to incorporate this powerful supplement into your daily wellness routine!
Suggested Use: Take a half dropper 1-2 times per day.
Natural Mixed Berry Flavor
Supports Nerve Function and Cognitive Health
Supports Sleep
Supports the production of healthy blood cells and DNA
Supports Immune System Function
Promotes healthy bones and skin
Promotes increased energy levels
Vitamin B12 (cyanocobalamin) 4mcg <165% DV>, Vitamin D3 (Cholecalciferol) 50mcg <333% DV>, Vitamin K2 (as Menaquinone-4) (MK-4) 100mcg <125% DV>
Other Ingredients: Caprylic/Capric Triglyceride, Natural Flavors.