6'2 GREEDY BEAVER REPREVE VOLCANIC HELIUM 20 3/4" X 2 5/8" - 40.9L FUTURES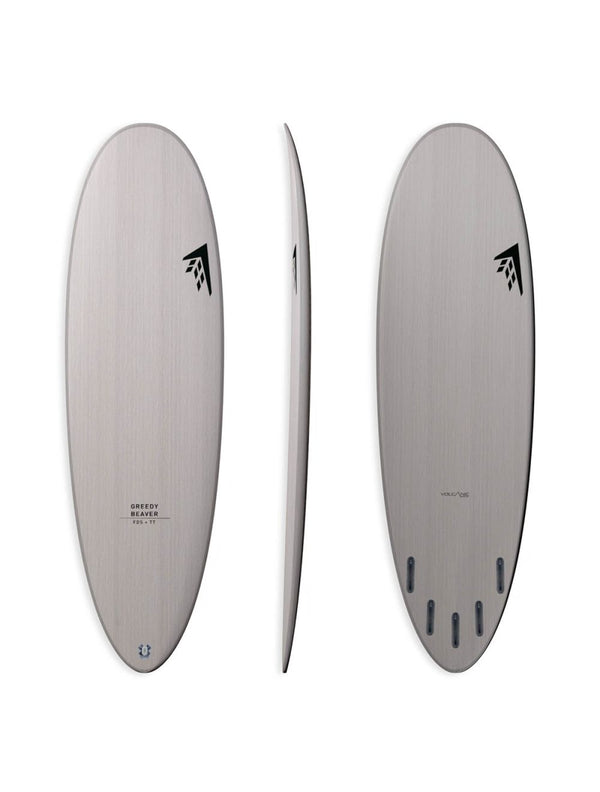 Firewire's Greedy Beaver surfboard is a true crossover board, taking aspects of a longboard and mixing it up with some modern shortboard design.
Suitable for everyone from beginners to experts in anything from knee to just overhead high waves. Great for beginners just coming off a mini mal will surf this board longer and with more volume, making it far more maneuverable than your mini mal but still with the width up top for stability. More advanced surfers can surf this board really short as a nippy groveller.
Volcanic Technology

Volcanic Tech is made from Basalt Fibers extruded from volcanic rocks that are crushed, melted and extruded into woven fibers that make up the cloth layers that wrap around the board. The cloth features similar characteristics to carbon in regard to strength and weight however, being constructed from natural organic materials, it is a better degradable ECO alternative than traditional carbon fiber cloth. Basalt fibers have better strength characteristics than traditional glass fibers, and unlike most glass fibers is highly resistant to alkaline, acidic and salt corrosion. Basalt fibers also have more flex than traditional Carbon fiber, allowing the board to have more flex for a natural feel under foot.
The Firewire Greedy Beaver is a full hybrid surfboard. With an initial longboard outline mixed with elements of a shortboard, the refined rails around the pulled in tail allow you to get on your back foot, throw the board around and really sit tight in the pocket of the wave. Come forward a little and the longboard factors will come into play, allowing you to trim and glide effortlessly through dead sections. Needless to say, the Greedy Beaver will make your paddling effortless. The single to double concave running through the bottom gives hold and drive through your turns.